Halong Bay, with the allure of a natural wonder, has become an attractive place for any travellers drawn to its incredibly breathtaking sceneries. The bay is not just islets varying in size floating on the surface of emerald water, but also comprises hundreds of distinctive attractions, making the spot perfectly impressive. However, Halong Bay covers such a large area that you hardly can visit all of its destinations.
The list of five following attractions in Halong Bay which are particularly appreciated by both domestic and foreign traveller will help you easily decide where to go during your trip to this amazing bay.
1.     Trong Mai Islet
Trong Mai Islet, also known as "Rock of the kissing cocks", is one out of thousands islands on Halong Bay. It has become symbol of Vietnam's tourism and its image is also printed on one side of the 20,000 VND note. Actually, it is a set of two rocks which, through the locals' imagination, have been seen as a couple huge cocks. They, a male and a female, have stood by the other for thousands of years, representing for the faithful love.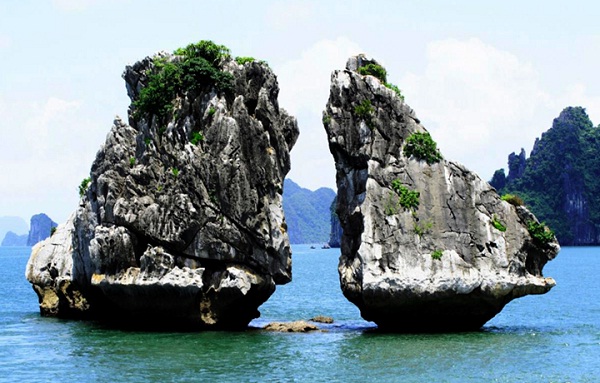 Trong Mai Islet is located nearly in the heart of Halong Bay which you need to take a ship journey to get to.
Its name definitely reflects its beauty that will make you surprising. Amazing Cave is one of the largest and the most important caves on Halong Bay in terms of its geological values. Therefore, a visit to the cave is usually arranged in the first day of itinerary of Halong Bay 2-to-3-day tours on board.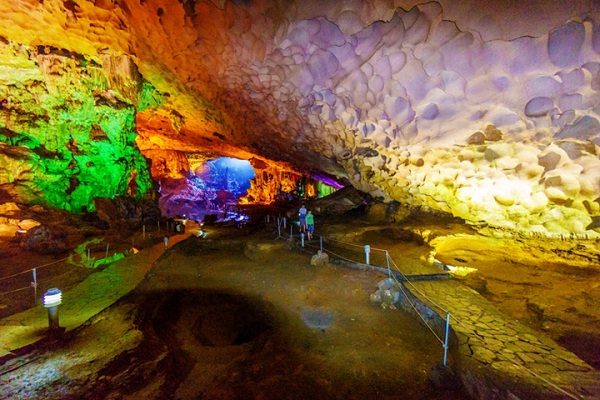 Visiting the cave is actually exploring a system of three different smaller caves connected to each other by narrow "doors" which are big enough for just one person to cross each time. The last grotto is also the largest one featured by odd-shaped stalactites hanging from the high ceiling and growing from the ground such as the one in shape of a turtle. If you book a trip with a tourism company, you may fortunately have chance to enjoy meals right inside this amazing cave.
 3.     Luon Cave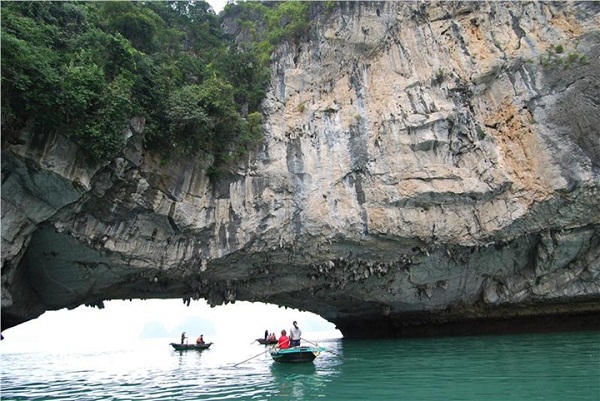 Perhaps this is the most special cave on Halong Bay which are ony accessible with kayak or small bamboo boats sailed by the local. In fact, Luon Cave is just about 60 metres long and its ceiling has the height ranging from 2.5 to 4 metres. The cave acts as a pretty entrance leading to a perfectly circular close lake which is somehow separated from the outside by the cliffs rising vertically out of the green of Halong Bay water. This stone wall is mostly covered by luxuriant trees, and is also the place for locals' goats to feed.
The name Titop was named by the greatest hero of Vietnam, President Ho Chi Minh, after a Russian astronaut Titop when he visited Halong Bay in 1962. This island is highlighted by a lovely white-sand beach also called Titop, small but ideal for several exciting beach activities, say, swimming and riding water-motorbike.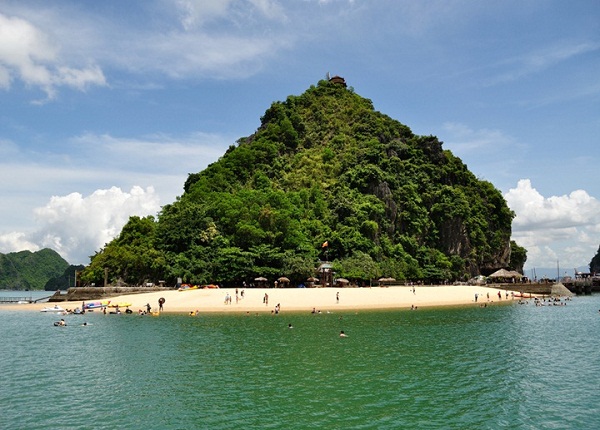 Titop Island gives you a unique opportunity to admire the entire spectacular view of Halong Bay from above, in other words, from a belvedere atop the hill beside the beach. Seen from that height, Halong Bay is just as small as your hand, but incredibly magnificent. The green of water and islets perfectly blends with the blue of sky, creating a picturesque
5.     Co To Island
Co To, a new destination for travellers to Halong Bay, differentiates from the hustle and bustle of Halong tourism due to it tranquil and pristine beauty. You can enjoy a relaxed atmosphere when pampering yourself with a little time for swimming sunbathing on white-sand beaches, namely, Van Chai, Hong Van and Bac Van.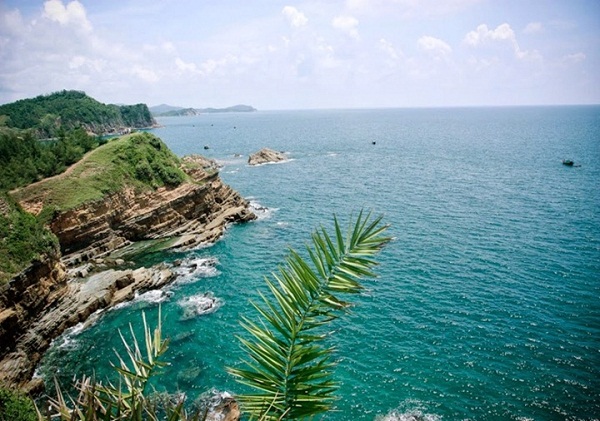 On Co To Island lies a lighthouse which do not just act as a lighthouse. People regard it as an ideal position to watch the beautiful view of Co To at dawn or at dusk.
The Indochina Voyages team.
Read more: