Halong Bay is one of seven Natural Wonders of the World recognized by UNESCO World Heritage. It is not surprised to say that because of its beautiful scenery, great natural creations, fresh air and wonderful climate. Only setting foot on Halong Bay and experiencing 2-day itinerary in this land do tourists feel lost in a legendary world of stone islands.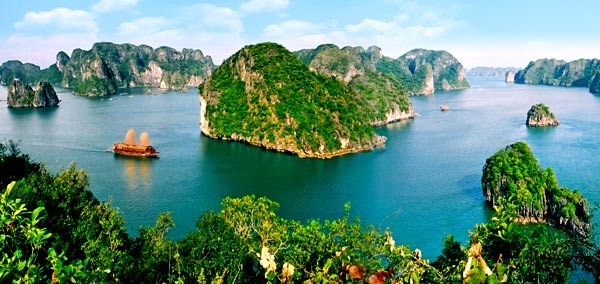 Located in the North region of Vietnam, Halong Bay is a bay of Gulf of Tonkin and is made up of nearly 3000 gorgeous islands and islets. However, tourists are recommended to visit well – known and popular sites including Thien Cung (Heavenly Residence Grotto), Dau Go (Driftwood Grotto), Sung Sot (Surprise Grotto), and Tam Cung (Three Palace Grotto), etc. Here is Halong Bay 2 day – itinerary that tourists can take advice to have a perfect trip.
The first day.
Tourists will be picked up at the Hanoi airport and you will have a short break at your hotel before the journey to Halong Bay. It takes about 2 hours from Hanoi to Halong Bay by car. Following the travel guide, you will arrive in Halong Bay at noon to have lunch on the boat that you booked. If you wan t to find more information about the boat, please contact us:
In the afternoon, you will arrive at Titop, one of the most beautiful islands of Halong Bay to take part in a lot of activities such as kayaking on the beach. It is a great time to relax and make your best spirit during the itinerary. Turning back on the cruise, you can take advantage your leisure to sunbathe or snorkel and enjoy luxury services of this tour.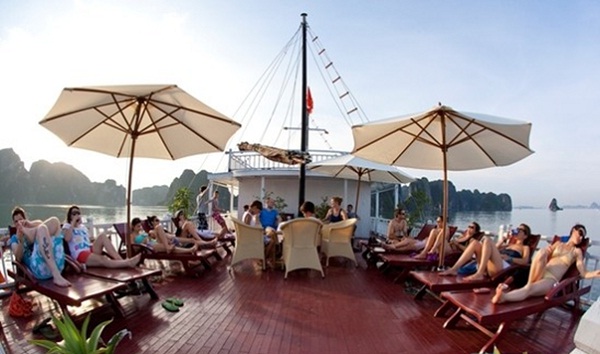 In the evening, you have opportunities to join a cooking demonstration class to find out more about Vietnamese food and learn yourself some traditional dishes. After the meal, you have your own time to relax before turning the bedroom.
The second day
The morning of the second day is started by 1 – hour visit of Sung Sot (Amazing Cave) after having colorful buffet breakfast on board. The itinerary is continues by going to some famous destinations which are Dinh Huong Island (Incense Burner), Cho Da Island (Stone Dog) and Ga Choi Island (Fighting Cocks), etc. The travel guide will take you to discover some of the treasures disseminated across the Bay during the afternoon: fascinating caves, pristine beaches, picturesque floating villages, fantastic rock formations rising up out of emerald water. After visiting, you have lunch on the boat and then leave the boat back to Halong Bay.
Now, you come to the end of the journey and go back to Hanoi in the afternoon.
Following 2 – day itinerary on Halong Bay, tourists will explore this magical bay as extremely attractive island. Halong Bay really resembles a geographic work of art.
The Indochina Voyages team.
Read more: