Halong Bay cruises can make your honeymoon holiday special. While cruising is one of the best choices when it comes to a romantic luxurious holiday, exploring the exotically beautiful landscape of Halong Bay can make your trip unprecedented. Now, let's see what will be waiting for you if you book a Halong Bay cruise for honeymoons, and our selected Halong Bay cruise tailor-made for a memorable Halong Bay honeymoon trip. 
What to expect on a Halong Bay cruise for a honeymoon
For a normal Halong trip, in 2 or 3-day cruising, you will live on a grandeur boat with refined design, fancy food, while being served by friendly and professional staff. You will engage in endless activities such as Halong Bay kayaking, swimming, cooking class, squid fishing, visiting Halong Bay caves and fishing villages, etc. It's also a chance to meet new interesting people on the cruise and to learn about Vietnamese culture.
But there are always more for couples who choose Halong Bay for their honeymoon trip. Be it a surprise cake, special set-up service, a romantic dinner in a hidden cave, or a couple massage session, Halong Bay cruise staffs know how to help the couples celebrate their most important life event.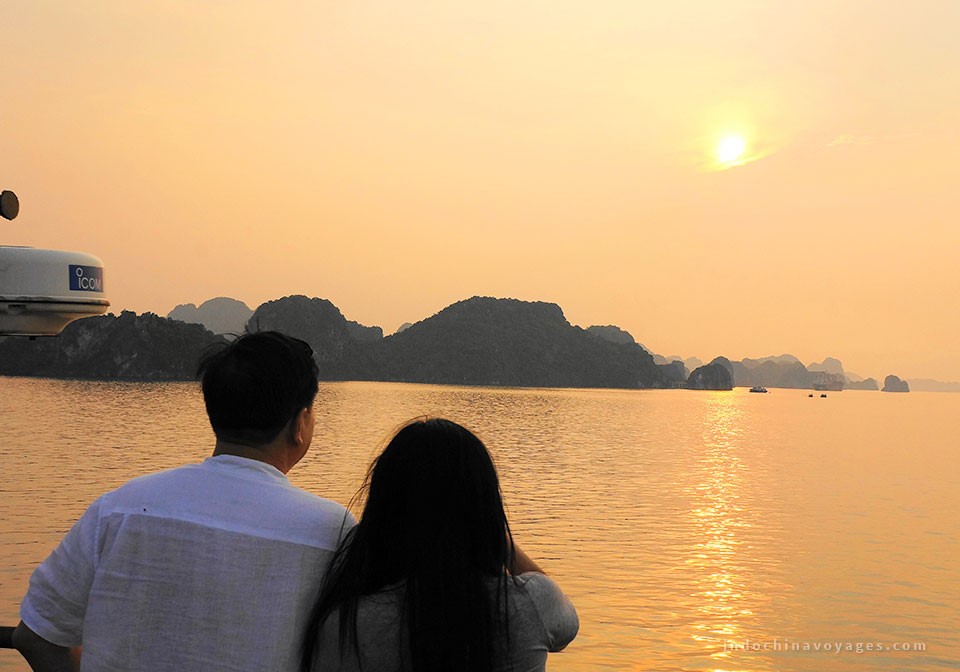 Tips to choose Halong Bay cruise for your honeymoon
Although you can technically choose any cruise for your honeymoon trip, it's best to choose a small cruise. This will make sure you have lots of privacy and tranquility. Imagine having the whole sundeck overlooking the splendid view of Halong Bay for you and your loved ones alone, it would be awesome. 
Pay attention to cruise itineraries as destinations and activities may vary among cruises. Discuss with your partner whether you would like to sail around Halong Bay- the popular one, or Lan Ha Bay, Bai Tu Long Bay (the less-touristy ones with the same traits as Halong Bay). Similarly, you should find out which activities among plenty of things to do in Halong Bay available to enjoy together.
There are cruises in Halong that specialize in operating honeymoon trips than others. Having been serving honeymooners for years, they just know how to get it right. Here are our top-picked Halong bay cruises for honeymooners. 
5 best Halong Bay cruises for Honeymoon
Valentine Cruise
From the name itself, you can tell that the cruise is meant for couples. From the smallest details such as honeymoon cakes, special setting or couple massage sessions, staffs really know how to make you feel special on your important trip of a lifetime. 
Valentine cruise goes around the Halong Bay area and some of its most popular destinations including the Surprise Cave – the biggest cave in Halong Bay, Cua Van floating village and Titov island. The small wooden cruise is equipped with massage and rainfall showers, and a separate jacuzzi, which will sure to bring you the most relaxing moments.
With only two cabins, she offers a lot of space for you and your life partner alone. 
Heritage Line Violet
With a classical French Indochina design, Violet cruise will shift you back in time to Vietnam in the colonial area. She cruises to Cua Van floating village, Tien Ong cave, and Titop Island, which makes it another good choice for honeymooners who wish to sail around the Halong Bay area.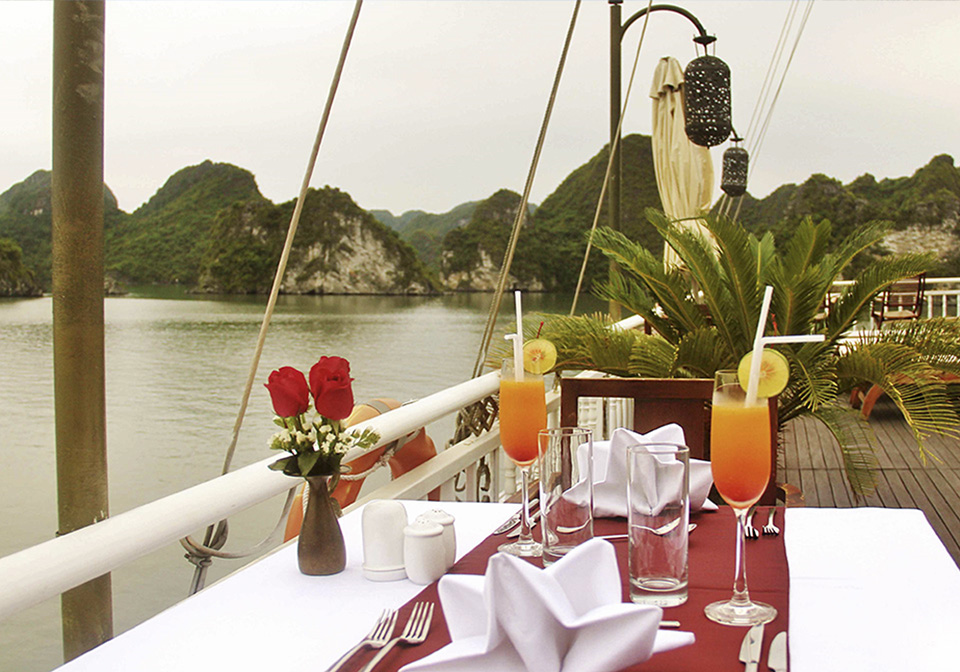 With only 6 cabins, she is small enough for a peaceful cruising experience, yet big enough for sociable couples who seek to meet new friends to enjoy the World Wonder Bay with. The cruise size is also perfect for a buddymoon when you invite your favorite friends to accompany you on your honeymoon trip. 
Prince Junk Cruise
Prince Junk cruise is a vessel of Indochina Junk – a big name in the Halong cruise industry.  Prince is a two-cabin cruise with an impressive outdoor dining area. She goes to the beaten track bay of Bai Tu Long, where you can explore beautiful primitive caves and islets and visit some fascinating floating villages.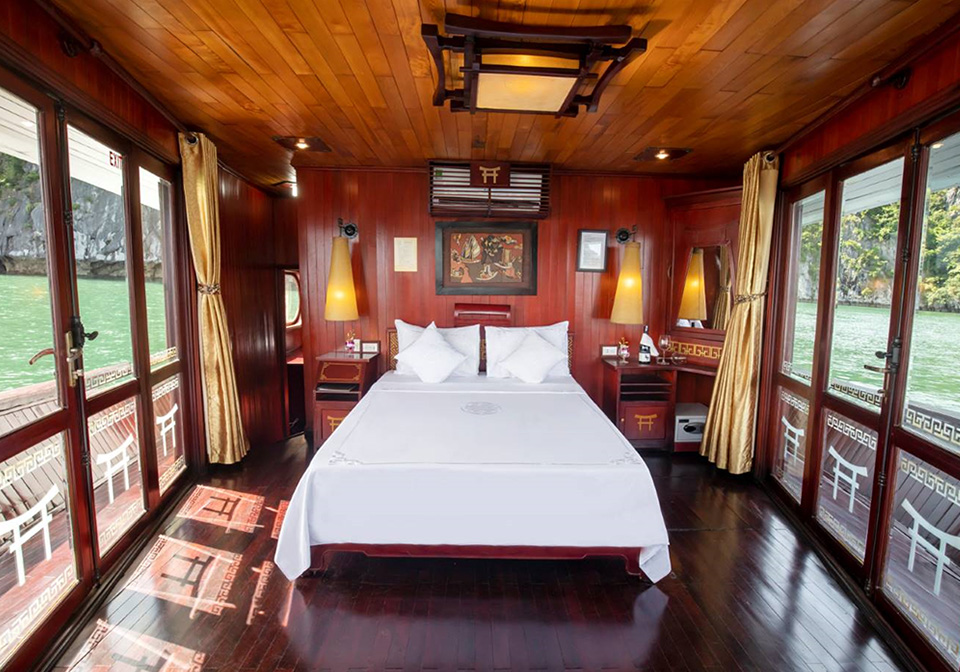 Beach BBQ and dinner in a cave are two noteworthy services that Prince cruise offers for honeymooners. It's not an everyday chance to enjoy succulent, grilled scallops and watch the sunset in a deserted beach, or having a special table for two in a rocky cave under dim candlelight. These romantic experiences are something we would want once in our life. 
L'amour Junk
L'amour Junk is the first small deluxe one-cabin junk in Halong Bay, which gives you the highest level of luxury and privacy. You will have a whole team of well-trained staff just for you and your loved one.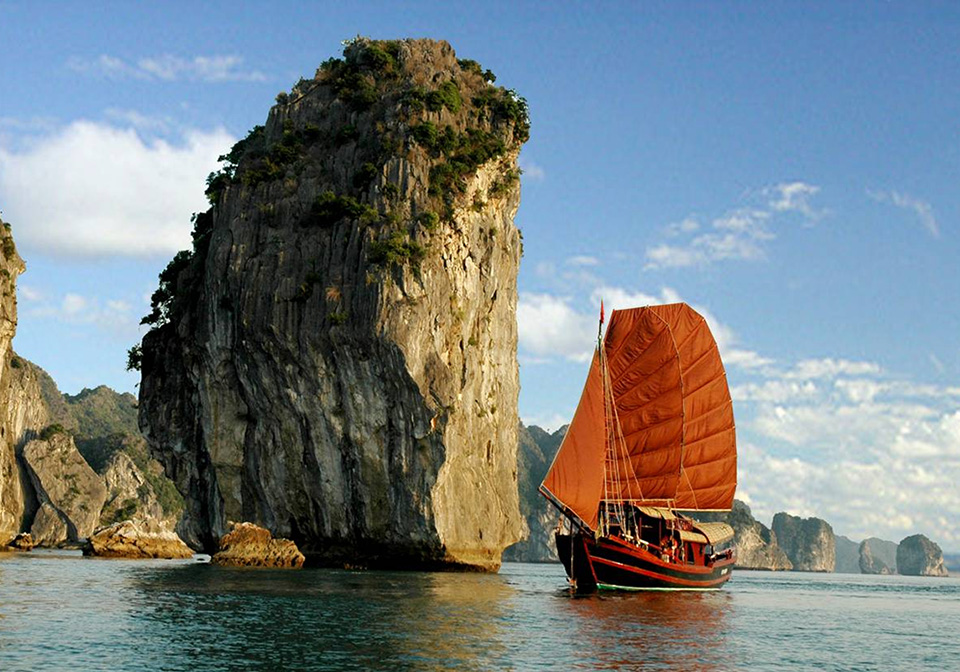 L'amour Junk is designed to bring the best view over Bai Tu Long Bay, the area she cruises to with a big sea view window in the dining room and bedroom and a lovely spacious sundeck.
You can get a private beach BBQ experience during your stay with L'amour cruise too. 
Bhaya Legend cruise
The smallest private Bhaya Legend cruise has one cabin, while the biggest has three. Bhaya private cruise is one of the rare cruises in Halong Bay that offer customized itineraries. You can choose everything: destinations, menu, activities suiting your taste. The cruise also has various themes for you to choose from, in case designing your trip from scratch seems intimidating.
Bhaya cruise is also a safe option when it comes to vegan food, Halal food, and other diets. Cruise chefs can meet your strict demand if you tell them in advance (48 hours in advance ideally). It is one of our most recommended vegan cruises.
Bhaya cruise also has some unique activities that others don't. For example, sunset cocktail tasting sessions and stellar outdoor cinema. These can be lovely add-on experiences for you to relish with your significant other.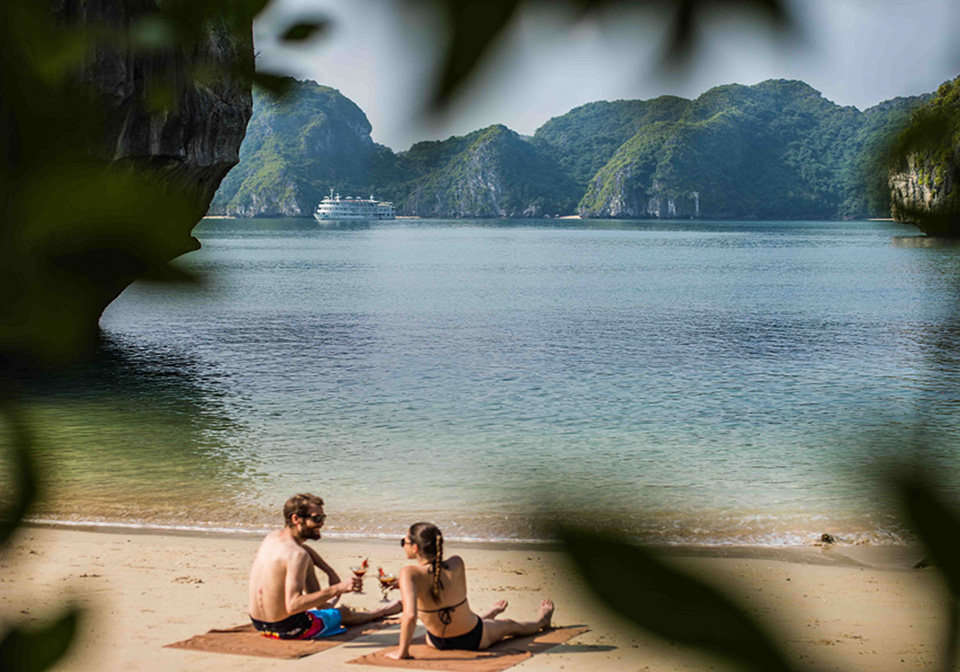 We know your honeymoon trip means a lot to you, and we really hope that after this article, you will find the trip planning easier. With the surprisingly affordable travel cost in Southeast Asia, you can have more for a honeymoon trip. You may want to consider 7-day Vietnam tours exploring North Vietnam including Halong Bay tours, or a two-week trip to Vietnam and Cambodia, where there are many more World Heritage temples, unique delicacies, and unexpected experiences. 
Chi Tran – Travel Specialist