Along with a massive system of caves, a large number of beautiful islands also contribute to creating attraction of Halong Bay. Almost Halong Bay islands are famous for breathtaking scenery, wonderful attractions, and interesting activities. Below are top 7 islands in Halong Bay you should not miss in your Vietnam tours to this destination.
Tuan Chau Island
Tuan Chau Island is about 2km from the center of Halong City. Coming here, you will find a 2 km road connecting the island to the mainland. Then, you will have a chance to experience the Tuan Chau Island resort with a 5-star resort and a number of restaurants serving both European and Asian dishes.
Tuan Chau beach with a 2 km coastline length will make travelers comfortable in the clear blue water. Moreover, there are many kinds of water sports activities for travelers, such as high-speed water skiing motorbike, parasailing, windsurfing, rowing, fishing, etc. Also, in the island center, travelers will be overwhelmed by the dolphin, seal, sea-lion performance, etc. The ticket price for all the activities is US$9.
Besides, if you would like to admire Halong Bay from above, hot-air balloon is a perfect option.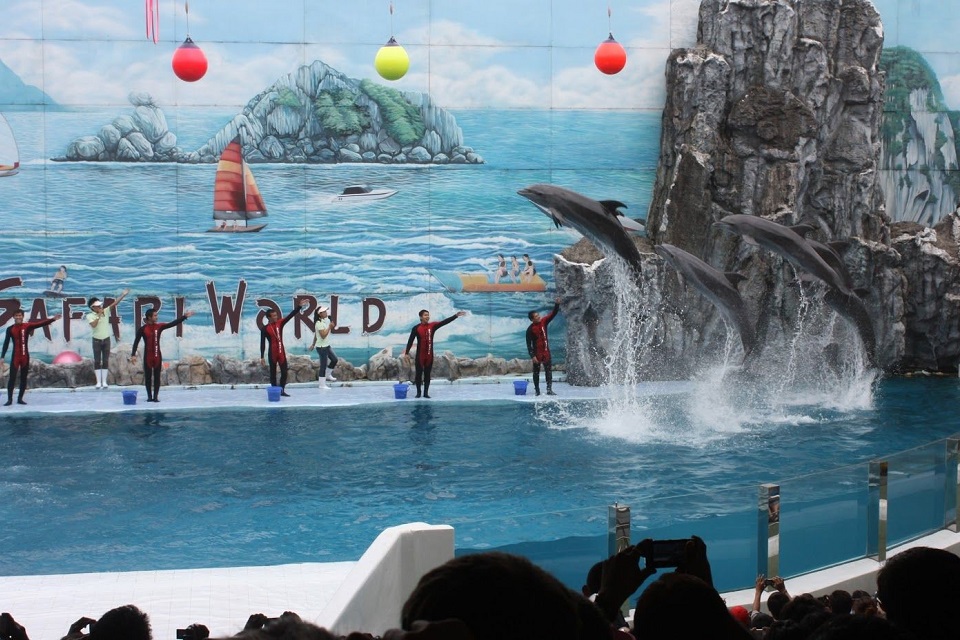 Cat Ba Island
Cat Ba Island is an archipelago of Cat Hai District, 30km from Hai Phong city. It is recognized by UNESCO as a world biosphere reserve and considered as the pearl island of the North. This is the largest of nearly 2,000 islands in Halong Bay area.
Cat Ba is not only a home to the largest and oldest fishing village in Vietnam, but also a system of more than 300 large and small limestone islands. There are lots of interesting things for those who like to explore the natural landscape.
In addition to swimming activities, Cat Ba Island also has many unique sightseeing experiences such as boat trip to admire Lan Ha Bay, exploring the oldest floating fishing village in Vietnam, trekking Cat Ba National Park, panoramic view of the town from the fortress, watching the sunrise on the coastal road, etc.
Interesting outdoor activities in Cat Ba include bathing on pristine beaches, kayaking, exploring Monkey Island with panoramic views of Lan Ha Bay from above, climbing, squid fishing, fishing, exploring limestone caves, etc.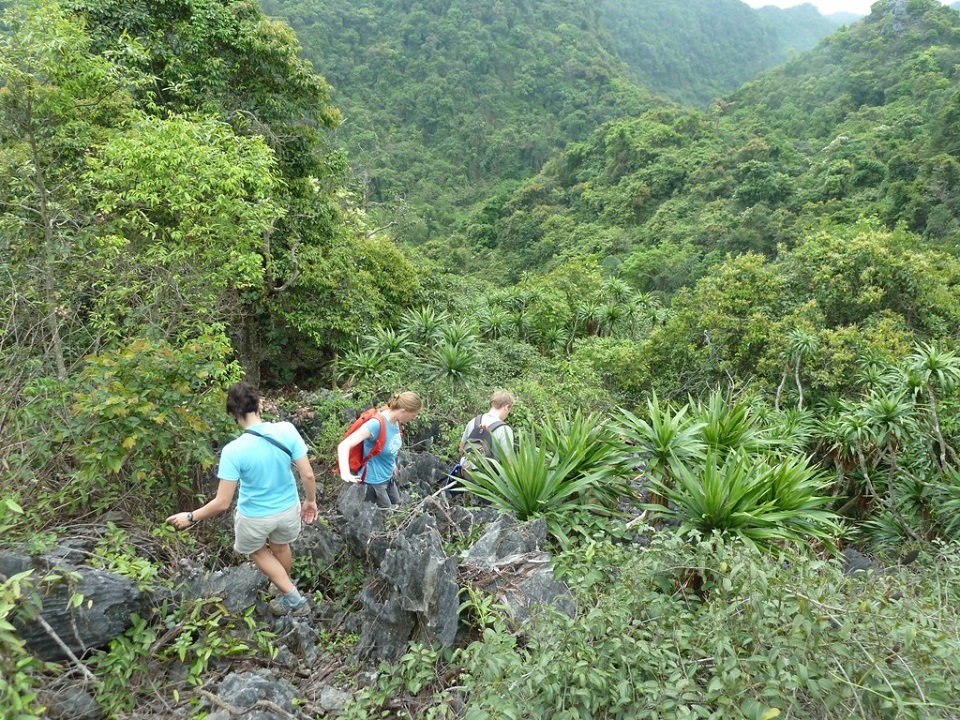 Lots of interesting experiences are waiting for you.
>> Suggested Halong bay cruise to Cat Ba Island: Mon Chéri Cruises
Ti Top Island
Ti Top Island is located in the heart of Halong Bay, which is only 8 kilometers from the Southeast of Bai Chay Harbor. Being one of the most famous Halong Bay islands, Ti Top is well-known for not only breathtaking romantic landscapes but also a heavenly beautiful beach that is perfect for any beach activities.
Ti Top offers travelers a fresh atmosphere, clean water, and smooth white sand that create a great ambiance to relax. Besides, there are also many interesting activities on the island such as swimming, kayaking, trekking, skydiving, etc. Furthermore, you can find numerous high-end resorts, hotels, restaurants, bars and souvenir shops to make your trip complete.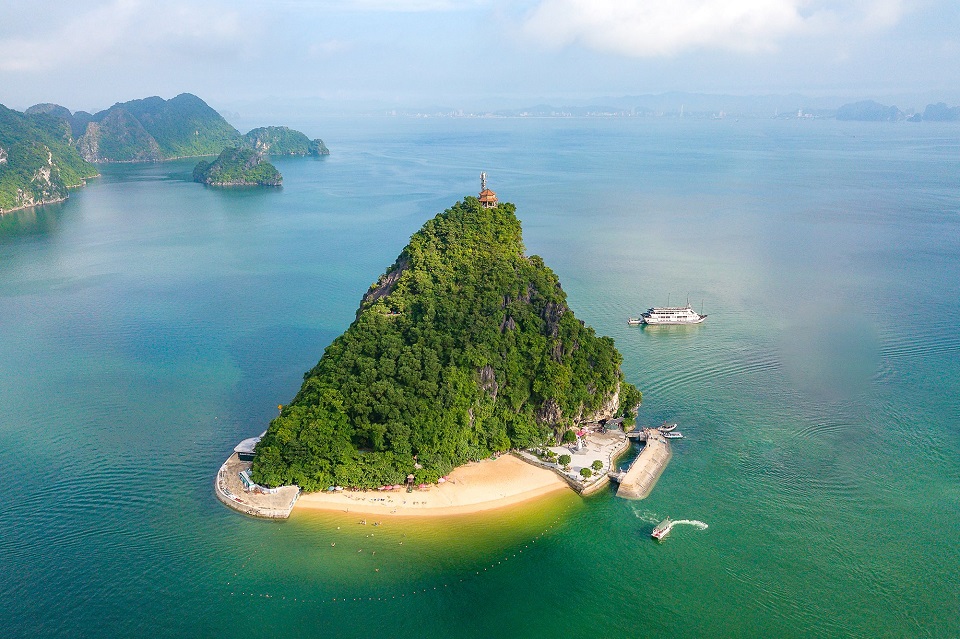 >> Suggested Halong bay cruise to Ti Top Island: Apricot Premium Cruise
Soi Sim Island
Located in the southwest in Halong Bay, Soi Sim Island is quite close to Ti Top Island, only about 700m away and about 10km from Bai Chay Harbor. Traveling to Soi Sim Island, you can not only immerse yourself in the cool beach but also let yourself into nature.
Moreover, you will have chances to admire the whole scene of Halong Bay from the top of the mountain with a 360-degree view. If you come across any picture of Halong Bay from above, it is most likely taken from the highest peak of Soi Sim Island.
>> Suggested Halong bay cruise to Soi Sim Island: Glory Legend Cruise
Cong Do Island
Cong Do Island is located in Bai Tu Long Bay, in the southeast of Halong Bay. The southwest of the island has a large coral reef with thousands of colors.
The area around Cong Do Island is also an anchor for Halong Bay overnight cruises. Every night at this place, the whole bay is lightened up by the cruise lights to explore Halong Bay at night.
With a peaceful area and the beautiful coral reefs, Cong Do Island is very suitable for kayaking. Near Cong Do Island, there are other attractions such as Halong Bay Caves and fishing villages to explore.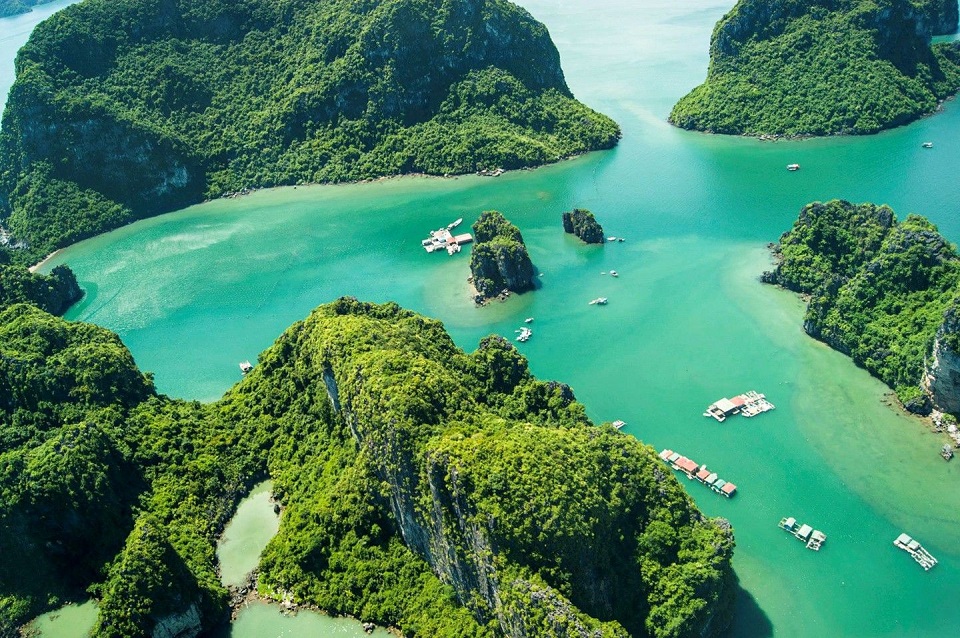 >> Suggested Halong bay cruise to Cong Do Island: Garden Bay Legend Cruise
Dau Be Island
Dau Be Island is located in the southeast of Halong Bay, about 28 km from Bai Chay Harbor. It is famous for many steep island cliffs like durable bastions preventing surge waves from the east into the gulf.
The most attractive spot on Dau Be Island is Ba Ham Lake. The lake comprises of three wide and round pits, linked together by a narrow and meandering cave. Inside the cave, stalactites hang down from the ceiling cave creating strange shapes and sizes. Additionally, on the island, there are many species of plants such as orchids, benjamin figs, banyans and cycads; and many species of animals such as yellow-haired monkeys, birds, flying squirrels, and bats.
>> Suggested Halong bay cruise to Cong Do Island: Oriental Sails Cruise
Bo Hon Island
Bo Hon is considered as one of the largest islands in Halong Bay. It is famous for not only the magnificent cave system but also breathtaking scenery with its series of high peaks, steep cliffs and consecutive mountains. You can visit many beautiful caves on the island such as Luon Cave, Virgin and Male Cave.
Besides, Bo Hon is home to many types of flora and fauna as well as wild animals. There are many species of plants such as benjamin fig trees, cycads and orchids; and many species of animals such as monkeys, deer, and chamois.
>> Suggested Halong bay cruise to Bo Hon Island: Paradise Elegance Cruise
In conclusion,  you should not miss the chance to visit and explore Halong Bay islands. It is because almost these islands offer splendid views, stunning attractions, and many interesting activities. Especially, top 7 islands in Halong Bay above will surely bring you such unforgotten experiences in your Halong Bay tour.
Yen Nghiem – Travel Specialist