"How to get to Cat Ba island from Halong bay?" – is one of the biggest concerns for travelers who wish for an amazing Halong Bay trip. Besides Halong Bay, Cat Ba island is known as the fantastic place filled with spectacular beaches and tourist spots. Here are some recommended ways for to travel from Halong Bay to Cat Ba island.
How to get from Halong Bay to Cat Ba Island
Halong bay to Cat Ba island distance is 19.6 km. Cat Ba Island is an archipelago of Cat Hai District, Hai Phong City. This is the largest island among a total of nearly 2,000 islands in the Halong Bay area.
Ferry Tuan Chau – Cat Ba
To travel from Halong Bay to Cat Ba island, the most convenient way is to take a ferry from Tuan Chau Harbor to Gia Luan Harbor in Cat Ba island. Tuan Chau – Cat Ba ferry route has run since 2009, invested by Au Lac Quang Ninh Co., Ltd. – Tuan Chau Group. This route is the fastest ferry waterway.
Travelers can take a taxi from Bai Chay beach in Halong to Tuan Chau Harbor for about US$5.5 then catch a ferry from Tuan Chau to Gia Luan Harbor US$2. There are from 5 to 7 ferries per day and it might take about 45 minutes per trip. Ferries are fully equipped with life-saving, fire-fighting, medical and other equipment following the standards of tourist ferry.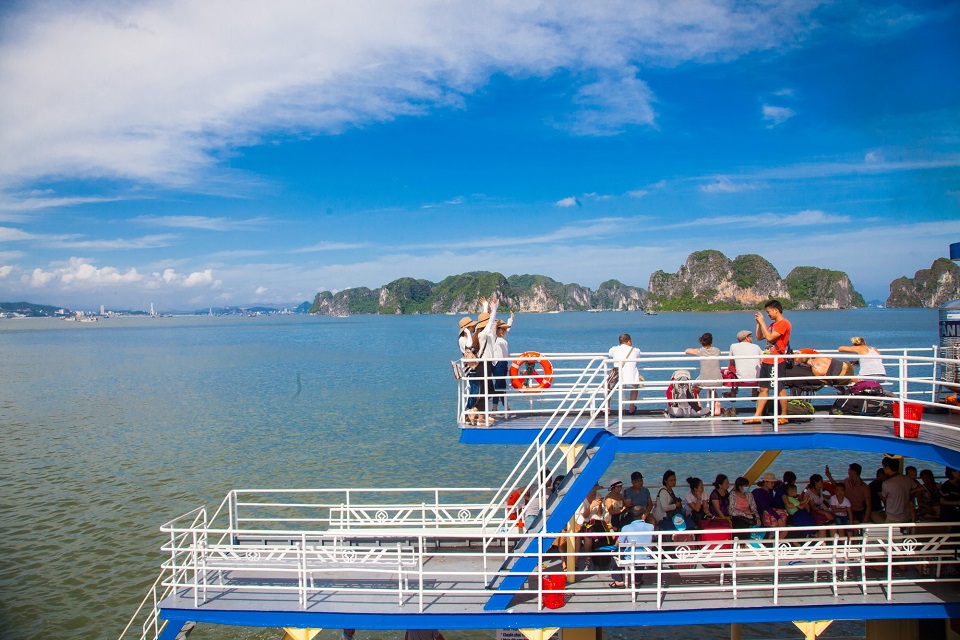 Since there is a large number of tourists who want to travel to Cat Ba from Halong Bay, ferries are often overloaded. Therefore, it is important to come early to buy tickets. Besides time-saving, taking ferries allows travelers to watch beautiful scenery along the way of Bai Chay bridge such as Ba Hang fishing village, Trong Mai island. As a result, it is popular for people who want to take a Cat Ba – Halong Bay day trip. Once arrived, travelers can take a public bus from Gia Luan Harbor to the center of Cat Ba Island. The bus will take them to some of the most significant attractions of Cat Ba island such as Cat Ba national park, Hoa Cuong cave, Hospital cave, etc.
High-speed boat Bai Chay – Cat Ba
The second option we recommend is taking a high-speed boat to get to Cat Ba island. The high-speed boat running on route "Bai Chay – Tuan Chau – Gia Luan – Cat Ba Town" is one of the most popular ones. It costs US$12/person with a maximum of 13 guests per trip.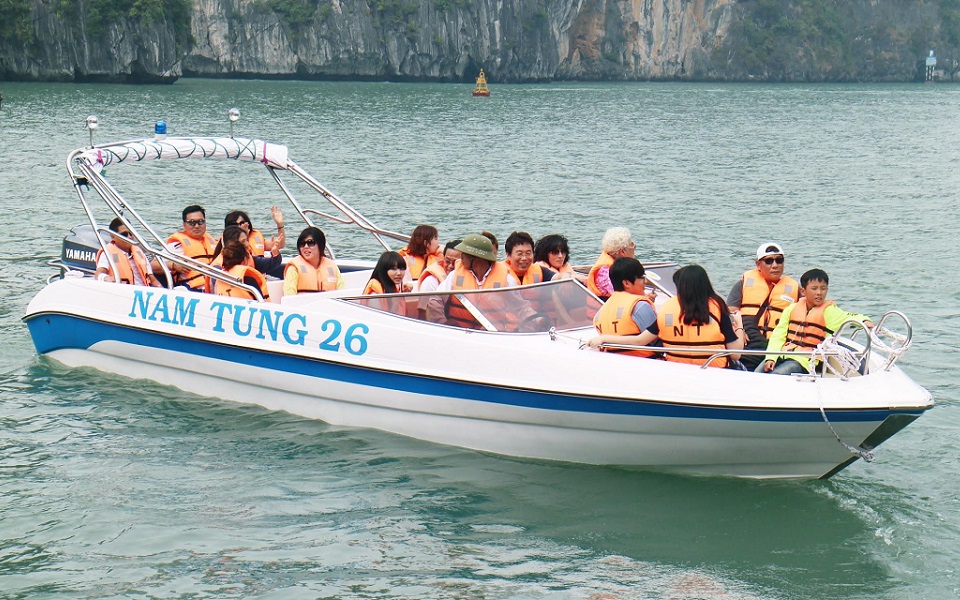 High-speed Hydrofoil Tuan Chau – Cat Ba
The final option is high-speed hydrofoil from Tuan Chau Harbor (Halong Bay) to Cat Ba island. Where ferry is time-consuming and high-speed boat's capacity is low, hydrofoil can solve these two problems. The traveling time is about 10 to 12 minutes. Ticket price is US$9.5 one way (for reference only). Travelers will have new experiences when traveling by high-speed hydrofoil at a reasonable cost.
Here are some hydrofoil companies for your references:
Paradise express: Price US$7 one way – contact: (+84) 33 3842 368
Kalong Hydrofoil: Price US$9.5 one way – contact: (+84) 912 729 627
However, since there are no official English booking sites for these ships, booking can be inconvenient for international visitors. You can ask your Vietnamese hotel receptionist to do it for you. Or else, it is also wise to book via Vietnam tour companies. A team of travel experts will know how to make an error-free reservation for you.
Explore Cat Ba on a cruise tour
If you are now baffled by many options and new names, you can consider take a cruise around Cat Ba Island. A in-depth Cat Ba Island 5 days tour, for example, will take you to the most spot-on destinations around the area with luxurious accommodations and top services. You need not worry about transportation between places either, since the tour has included everything.
>> Cruises visit Cat Ba Island
Some recommendations when traveling to Cat Ba Island
The best time to travel Cat Ba
Travelers can visit Cat Ba at any time of the year, but the best time is from April to November. This period falls into summer and autumn, when the weather is ideal for traveling. However, the summer vacation from May to July is also peak season for domestic travel. To avoid being packed among Vietnamese tourists, international visitors often come in October or November instead.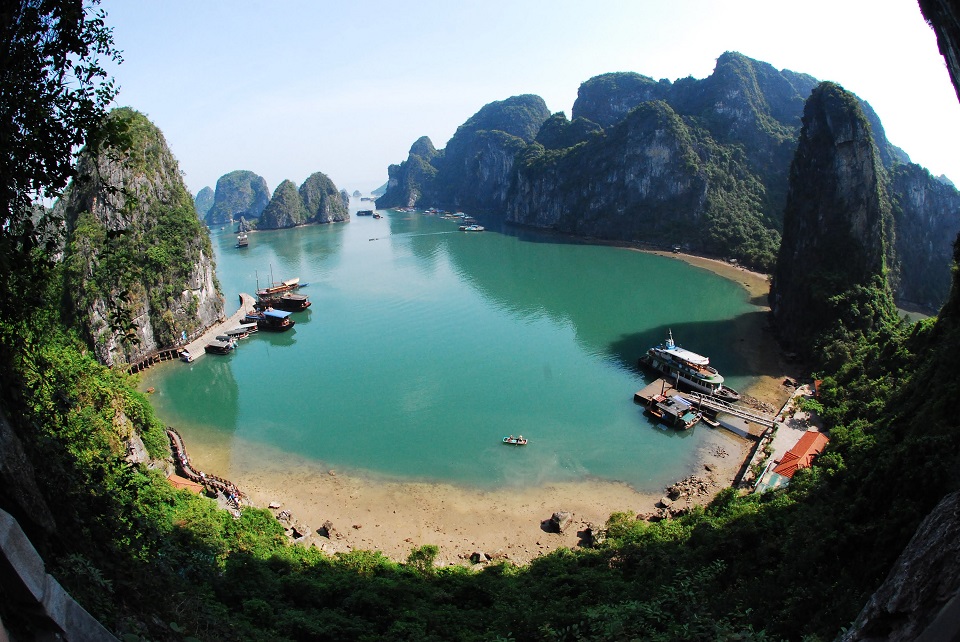 As a matter of fact, weekends or public holidays would be more crowded than normal weekdays. Therefore if possible, you should visit Cat Ba on weekdays to enjoy the island at the fullest.
Accommodations in Cat Ba
In recent years, the number of tourists visiting Cat Ba island has increased rapidly. For that reason, there is a wider range of accommodations to choose from standard, affordable homestay to luxury hotel. Normally, single booking will be more expensive than group ones. Moreover, the later you book, the higher the price. And weekend price is also about 20% – 50% more higher than weekday price. You will also be charged more when book on public holidays.
Hotel rooms in Cat Ba are usually located along the coast. The others may not be right next to the beach but you can still go there on foot or by tram for VND10,000 per person, approx US$0.5 only.
These are some recommended hotels and homestays in Cat Ba island:
Top attractions in Cat Ba Island
Cat Ba beaches
The most famous beaches in Cat Ba must be Cat Co beach 1, 2, 3 , all of which are very close to the center. From Cat Ba Island centre, you can take a motorbike, taxi or tram to the beach. According to local people, travelers should go ashore before 18:30 when the tide becomes vigorous.
Monkey Island
Formerly known as Cat Pin Island, Monkey Island has a lot of wild pineapples. Local inhabitants used to drink those pineapple to cool down the tropical heat. They could also be dried as a medicine. Nowadays, travelers are familiar with Monkey Island as the home for 20 small monkeys. There are 2 beaches, Cat Pin 1 and Cat Pin 2. Both of them is pretty and clean. You can freely swim or take a snorkeling tour, with guided instructors. The cost is about US$50 / 30 minutes.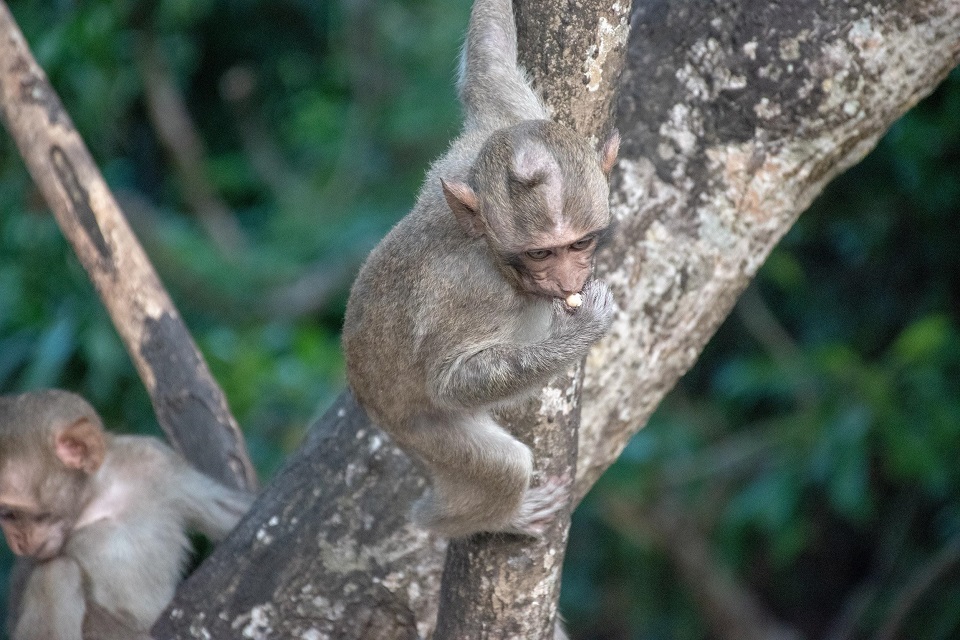 Visit Lan Ha Bay by Kayak
Kayaking in Lan Ha Bay is very interesting for those who love adventure. You will have to sail on the waves through limestone mountains, caves, clear water, as well as explore white sand hidden beaches.
You can take a boat tour from Cat Ba Island to Lan Ha Bay. Most of the tours includes kayaking activities in the area. Besides, these tours also offer visits to some interesting destinations such as Cai Beo fishing village, Monkey island, Light cave, Dark cave.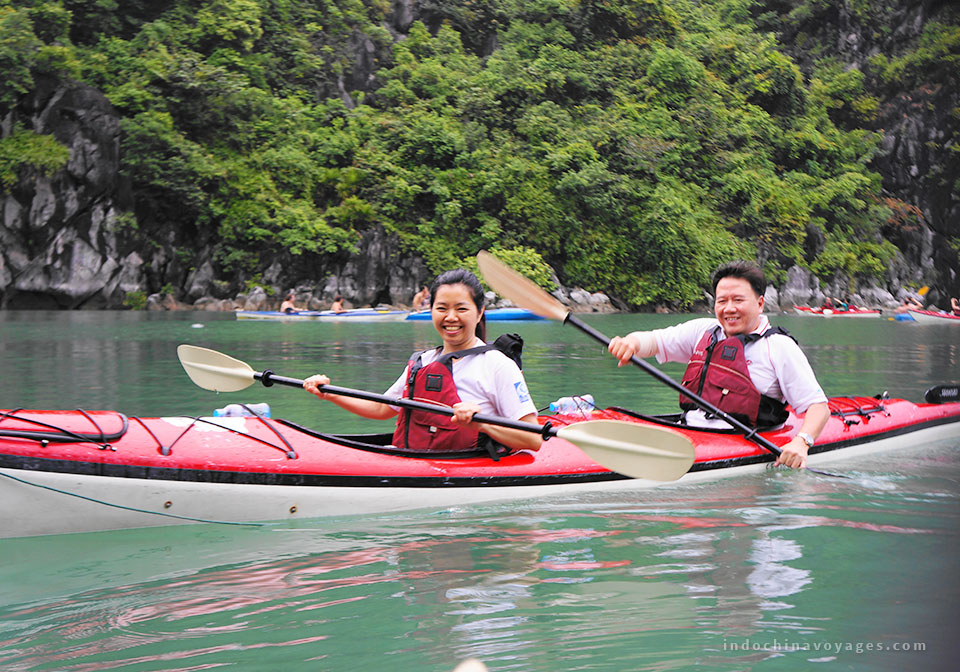 These are some of our recommendations for effective ways to travel from Halong Bay to Cat Ba island. Hopefully, you have all essential information about traveling in Cat Ba island. Let's plan your Vietnam tours right now!
>> See more:
Thanh Nguyen – Travel Lover