Halong Bay is undoubtedly the most well-known name when planning to travel Indochina. Thanks to its peculiar beauty and unparalleled formation, the bay is a must-see for all foreign travelers. In this blog, all needed information about how to plan your Halong Bay boat tour and the next destinations will be provided.
Halong Bay general information
Located in Halong City, Quang Ninh Province, Halong Bay is an UNESCO World Heritage site; covering an area of more than 1,500 square km, the bay has thousands of limestone islands and islets. According to statistic, there are approximately 1900 islands and islets and they are of various shapes and sizes. The diversity is seen not only in geography but also in the biological system around the bay.
The development of Halong Bay now has led to the expansion and upgrade of transportation system. It facilitates the journey of customers to Halong Bay from Hanoi and from Halong Bay to other attractions as well.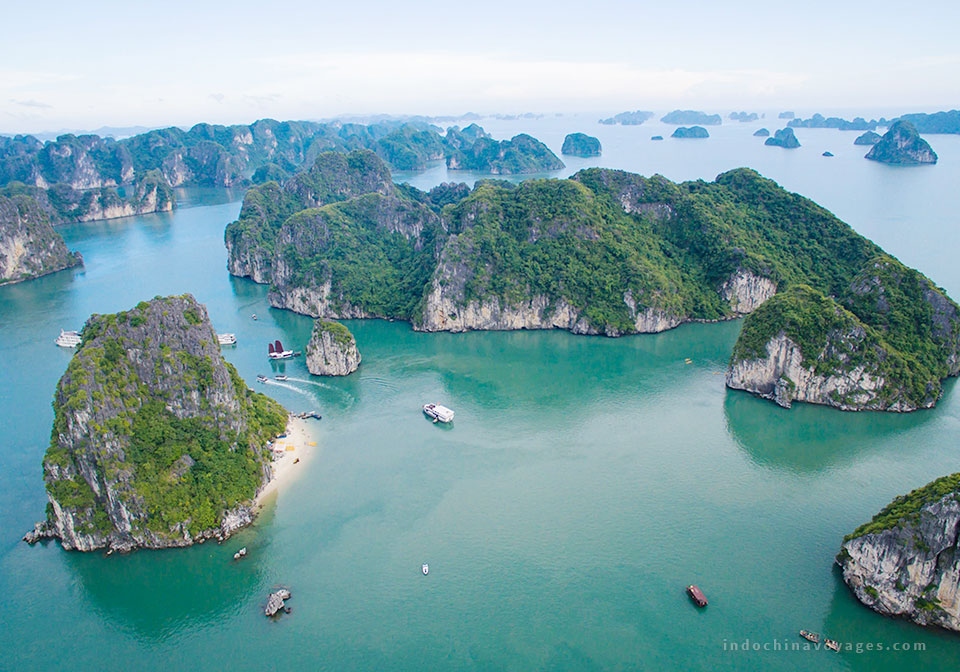 How to get to Halong Bay from Hanoi
Halong Bay is open for visiting since a long time, the core of the bay however is under protection, there is a certain area where boats are allowed to explore. Not as many people know specifically that Halong Bay is divided into 3 routes; such as Halong Bay from Tuan Chau International Port, Bai Tu Long Bay from Hon Gai Port and Lan Ha Bay from Pha Got Port. Trips from Hanoi to Halong Bay take you around 3,5 – 4 driving hours to reach these ports on No.5 highway. However, you can choose the new Halong – Haiphong Expressway and Bach Dang Bridge to reach these ports with 1,5 – 2 driving hours only. All of cruises now offers private car and shuttle bus on both for you to choose. Of course, the cost for the new motor-way is higher.
Halong Bay routes
Route 1: Halong Bay
Titov Island
This island is considered the heart of the bay and it also brings a breathtakingly panoramic view from its top. Being a small island, travelers can only stop for a swim or climbing up to the peak. But a fact is that, due to increasing number of boats in this area, it is not an ideal place for swimming anymore.
Tung Sau Pearl Farm
Besides great nature, you can also have an opportunity to observe the process of making pearls in this farm. Cultivating pearls has been a tradition of Halong Bay, hence, local people are eager to welcome guests so that they can share their experience. If you love the local products, they are also available for sale.
Here comes the largest cave of the whole complex. As it name indicates, you will be amazed and will have to say "wow" every time you visit each part of the cave.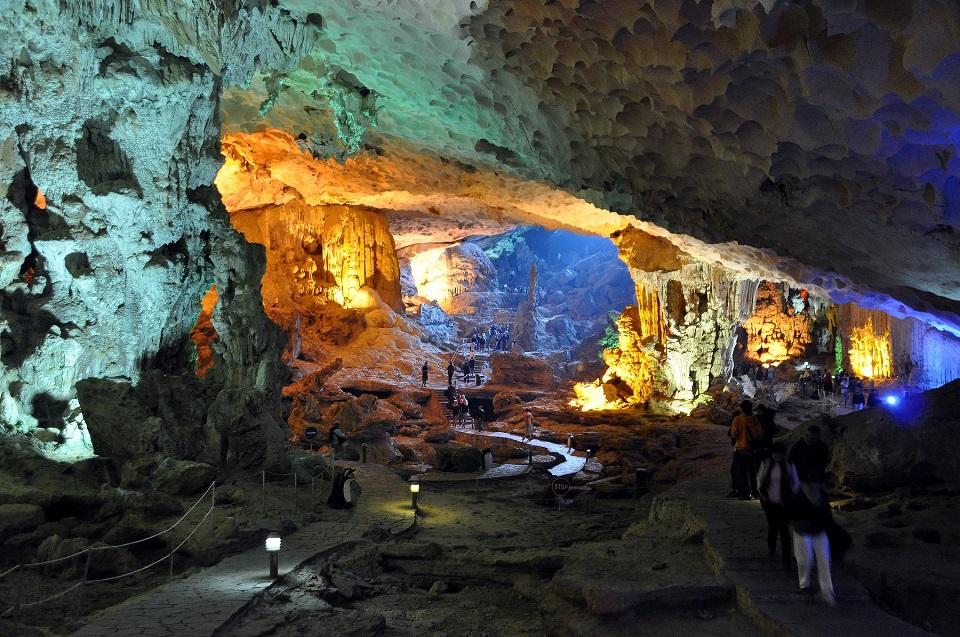 Insides route number 1, there are other attractions such as Trinh Nu Cave (Virgin Cave), Trong Cave and Luon Cave. However, they are not popular for cruises now.
In my opinion, this route is just suitable for Halong Bay day tours or 2-day 1-night itineraries only. It is fairly touristy now. However, you can expect the scene of thousand islets and wonderful cave visiting which the other parts cannot offer. Besides, there is a variety cruise option on this part for you to consider if you plan to see this route.
Route 2: Bai Tu Long Bay
This is the most beautiful and mysterious cave in this route situating on Cong Do island. In order to reach the cave, you will need to do a minor exercise of waking up the stairway of 100 steps under the craggy cliff.
Cap La Island
This is an area that still has residences living on floating houses. Surrounded by lagoons in a tranquil area, this island offers travelers a small and lovely beach; and you can definitely jump into the crystal clear water and have a swim.
Vung Vieng Fishing Village
The same as Cap La Island, you can also find households in this village. This area is as quiet as Cap La, and you will have chance to learn more about authentic life of fishermen, about how they use nets to catching fishes every day.
This part has clearer water but less islets and caves than route 1. However, this area is fairly quiet and very suitable for kayaking or swimming. If you are couple planning to do an overnight cruise in Halong, I recommend this part. Especially, a private boat or small junk. In this route, there are some options for small boat for you. If you love to see a quite part of Halong and stay on small boats, this route is highly recommended.
Ba Trai Dao Area
This area is referred to as Three Peach Island. Travelers can find white sandy beach here and can stop for a swim.
The island is a core attraction and one of the most famous islands in the Northern Vietnam. Spanning an area of around 285 square km, half of its land surface is jungle, which is the Cat Ba National Park.
Stopping on this island, visitors can enjoy plenty activities; such as exploring caves and primitive forest, swimming, cycling through countryside villages. Regarding caves, Trung Trang cave and Hospital cave are worth to pay a visit during your time on this island. For cycling, Viet Hai Village, which lies in the middle of national park, is such a peaceful place for this activity.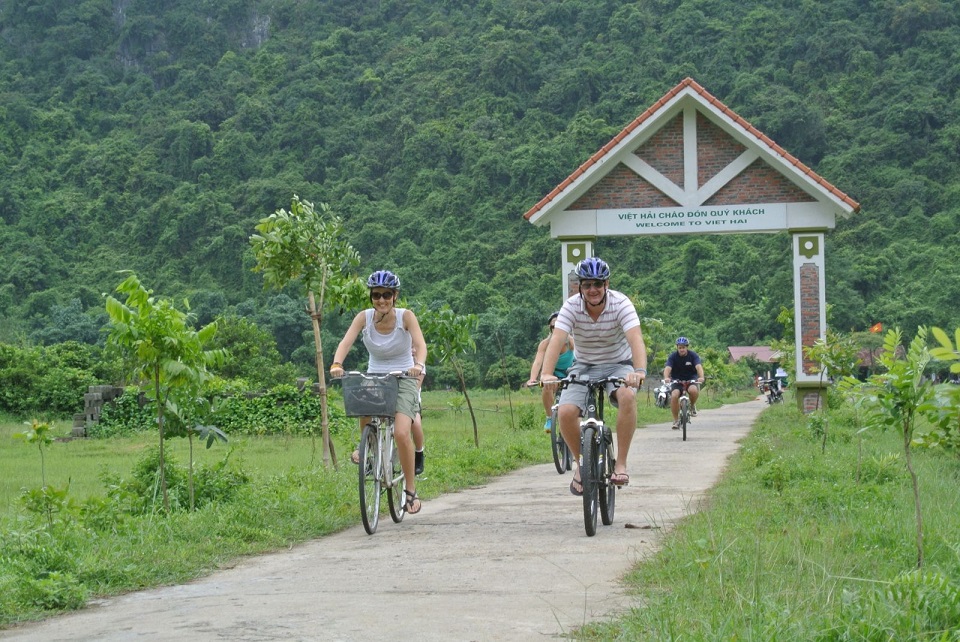 If you are finding for posh, luxurious, modern boat, you should choose a cruise on this route. There are a lot of 4* and 5* steel cruise on this area. However, you will not have chance to see caves and many islets. All cruises here will focus on out-door activities as kayaking, cycling, swimming. This is very suitable for a family or big group traveling together.
Advice in choosing appropriate Halong bay boat cruise
With a view to exploring this world wonder, it is highly recommended to book a cruise for 1 day or sleeping overnight with 2-day 1-night or 3-day 2-night itinerary. Before deciding on which cruise to book, you need to take into consideration the amount of time you have. If you are not in a rush schedule, staying on the boat for 1 or 2 nights is a life-time experience you should try. One more reason is that travelling to Halong Bay within the day can be quite tiring because of a long distance. The second element to reckon with is the itinerary.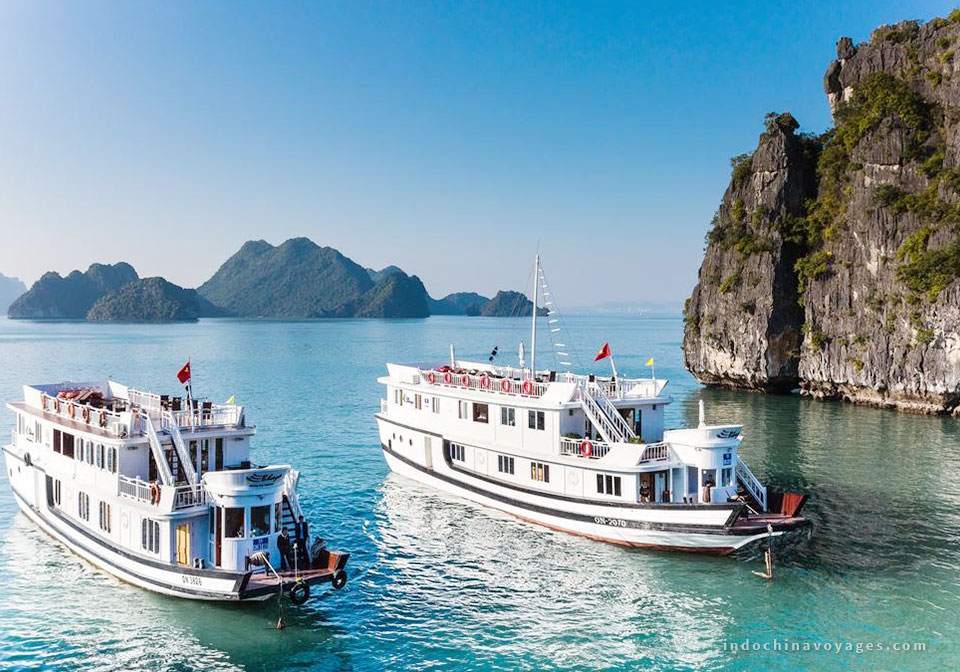 All of the cruises in the bay follow a fixed itinerary as per 3 routes above or even a mixed one, thus you should read their program thoroughly to see which area they will lead you to. Then, the final decision still needs to count on your other preferences such as:
Standard of boat (basic, deluxe or luxurious cruises)
Style of boat (wooden and traditional boat or steel and modern boat)
Size of boat (number of maximum guests can join in)
If you have difficulty in choosing among a bunk of cruises, you can just find the reliable Vietnam tour companies to support you in doing that.
Where you should plan after Halong Bay boat tour
If you plan to fly out to other destinations domestically in Vietnam or internationally after Halong Bay tours, it is very easy to go straight to Noi Bai airport. Most of cruises disembark at around 11:30 – 12:00 and the journey from Halong to Noi Bai airport will be added 1 hour compared to the journey from Hanoi. To make sure about the time, it is advisable that you consult the cruise or agency you work with due to the reason that each cruise uses different road. Noi Bai airport is one of the two biggest airports in Vietnam, thus you are able to fly to almost all destinations. Upon finishing Halong Bay cruises, you can travel to Cat Bi airport in Hai Phong city, which is much closer than Noi Bai airport. However, there are certain destinations you can fly to such as Ho Chi Minh city, Da Nang, Buon Me Thuot, Thailand (Bangkok), Korea (Incheon and Seoul), Japan (Osaka).
From Halong Bay, you can come back to Hanoi for Sapa Vietnam tours either by car or train. Opting for car will require you around 5,5 hours to get to Sapa while opting for train will take you longer, around 8 hours.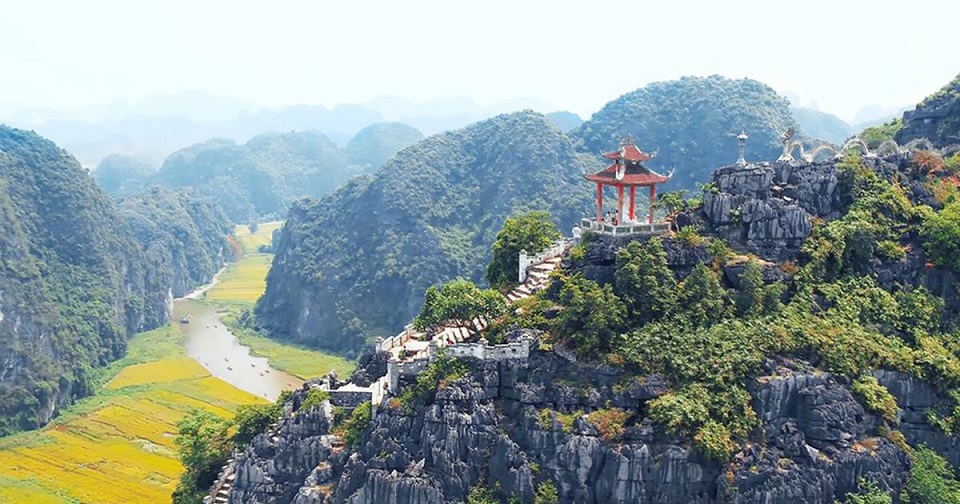 Last but not least, you can condiser a Ninh Binh private tour after your Halong Bay tour. By sitting on a car, you will arrive in Ninh Binh Province in about 4 hours (around at 4:00pm). Then, you can plan to stay in this city for 02 days to see Trang An, Dancing Cave (Mua Cave), Tam Coc and temples.
Hopefully with above advice, you will better arrange your North Vietnam tours through the most interesting mentioned destinations.
Minh Vu – Travel Specialist